Alice stared at Esme in shock. Mostly because the gift was absolutely breathtaking, but also because Esme considered for the smallest fraction of a second that she would not want to wear it.
"Esme, this is absolutely to much." The words were barely able to escape her lips.
"Don't be silly Alice. You deserve it." Esme's words were so kind that Alice had to choke back a stifled sob.
"Here, let me put it on you." Alice swept her hair off her shoulders. She had been letting it grow out recently and it was going to be the perfect length for the wedding. Esme's careful hands clasped the necklace in place.
"Esme, it's perfect. It will go wonderfully with my dress."
Her mother beamed with pride. "Speaking of which. How is the orange planning coming along?" Esme could see immediately that Alice's earlier stress had stemmed from this.
"Well, that long walk I had while Edward and Rosalie argued has led me in a different direction." Alice pulled the design of the spot in the woods out for Esme to see. "I was inspired by this."
"Alice, this is beautiful. What is this place?"
"Well, that's just it. Right now it is nothing. Just an abandoned place in the woods, but this rustic space will one day be the place of Bella and Edward's cottage."
Esme took the news quite well. It was as if she were not suprised at all. "We will start designing right after your wedding." She said with a laugh.
Alice laughed as well as she pulled out the glamourous gray look book she had created. "Here are the main color swatches."
"I decided to go with the glamourous gray. I wanted a more rustic feel to the wedding. Plus, it is more me as it is." She slipped the page and pulled out a copy of the invitations she had ordered. She handed the invitation to Esme. "I am changing the design to our family crest and making it a deep purple as well as the H monogram in the back."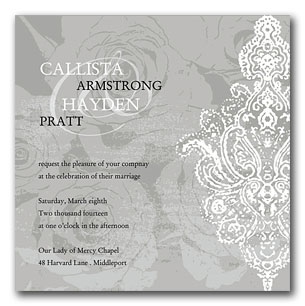 Alice could see in Esme's eyes that the Cullen Crest being on the invitations was a sentimental touch. She skimmed through a few things. "Ah. Here are the bouquets."
"The first one is mine and the second one will be Rosalie's."
Esme was silent. One hand clutched the photos while the other clutched her heart.
"So, what do you think?"