After being almost mauled to death by a bear in 1935, Emmett was rescued by future soulmate Rosalie Hale, and given a second chance at life after being transformed into a vampire by adoptive father Carlisle Cullen upon her request.
Rosalie and Emmett were rarely parted after this, being that they were true soul mates. He is now married to Rosalie; they have a strong connection together. The pair are integral members of the Cullen family and participate eagerly in removing the numerous impediments it faces.
Emmett is very tall, very burly, and to everyone he encounters, very intimidating. Standing at 6'5", he is the tallest of the Cullens, towering over Alice by nearly two feet. His strength gives him a rather filled out form, but he is not regarded as being overweight, just muscular. His height helps spread out his weight. He has a round face with dimples and slightly curly, dark brown hair, giving him a childish look. He is the strongest of the Cullens. Like the rest of his family, he has pale skin and golden eyes that darken to black as he becomes thirsty.
He is one of the youngest vampires in the Cullen family, which is why the scent of human blood is sometimes harder for him to resist. Despite being the most intimidating Cullen, Emmett is very loving and caring to his wife Rosalie Hale and the rest of his. Emmett loves to laugh and make jokes, and tries to lighten up tense situations with his sense of humor. He appears to be thoughtless and makes rash decisions, but he is also brave, enjoys fighting, and is very competitive.
As a vampire, Emmett has many enhanced properties such as superhuman speed and incredible strength. Like other members of the Cullen family, he does have a special ability. He possesses enhanced physical strength. He however, has no mental powers like Alice, Edward, and Jasper. Emmett thinks that if Edward was unable to read minds, then Emmett would be capable of defeating him in combat. His physical strength is met in comparison with his compassion and love for his wife.
The name Emmett means "strong", and Emmett is the strongest vampire in the Cullen family.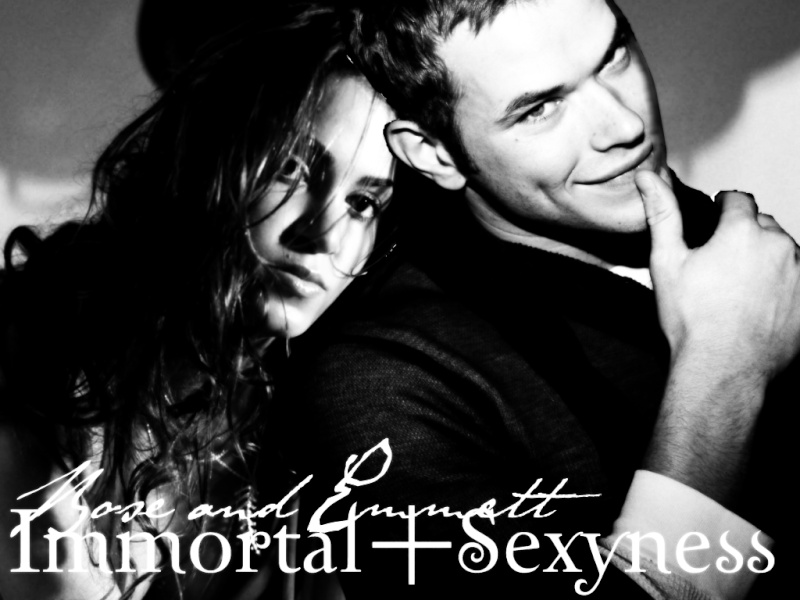 --------------------------------------------------------------------------------
"Hell's not so bad if you get to keep an angel with you."