Felix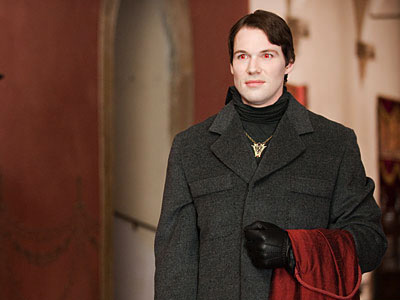 Specie : Vampire
Coven : Volturi
Occupation : Volturi Guard
Born : Around 1750's
Changed : Around 1770's
Creator : Unknown
Abilities : Brute Force Strength (one of the Strongest vampires)
Felix is part of the Elite members of the Volturi Guards. He is originally from Italy, but with his creator unknown. It was Caius who stumbled across Felix as a nomad and admired his brute strength and agility and offered him a placement with the Volturi.
No matter how good anyone else is in physical combat, Felix will always remain one, or most likely, several steps ahead of them. Coupled with his large size, Felix is probably the most powerful vampire, physically speaking, in the Volturi Guard, if not the world, with Emmett Cullen coming in close behind him in strength.
Felix doesn't remember a whole lot from his human life. But as a Guard he is one of their best assets, always ready to fight and can make even the hardest of vampires back down. His loyalties lie with the Volturi, but his priorities are to Caius,
When Felix joined the Volturi, it is when he met and fell for another of the Elite Guards. The sadistic and prized possestion of Aro's Jane. The head of the Elite Guards. It took both of them 230 years to admit there feeling for each other and to be together. Everyone was pleased for them. All but Jane's twin brother Alec. Even Aro gave his blessing.
Felix is not one to show his emotions, but that is what brings Jane and him together. They both hold up as tough, strong, independant vampires, that never show true emotions. Until they are alone in the comfort of their chambers with no one else around. It is when Felix can be himself and let his guard down.
When Felix joined the guards, he instantly became friends with Demetri. They are both classed within the Volturi as being 'Partner's in Crime' or 'Brothers at Arms' because they are thick as thieves and when they are not in their chambers with their mates. You can be sure, if you find one, you will instantly find the other.
Both of them are also known to be gamblers. They both dable in the prizes of gambling, where they normally bet on games they are facing against each other.
"You look good. Immortality suits you."