Coral Brooke Gray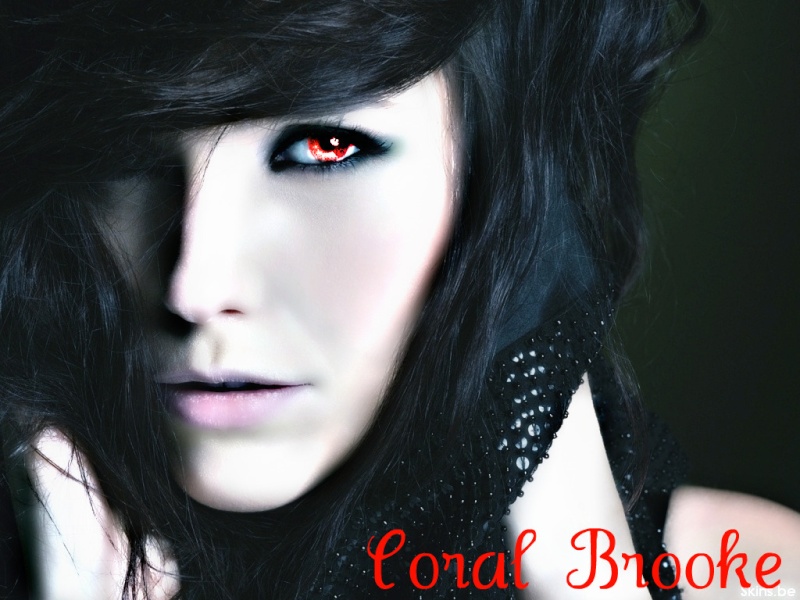 Race: Vampire
Coven: Nomad
Born: July 15, 1940
Turned: November 12, 1958
Hair Color: Long, curly, and a dark brown- almost black
Eyes: Deep Crimson when full, Ebony when hungry
Coral was a normal teenager, born during World War II. Her family lived in San Torini, Greece where she grew up because of the war. Something about the water was fascinating to her and it was not until she was turned into a vampire at the young age of 18 that she realized her full potential to use it. She could create and manipulate the liquid however she chose. Her sister, Kai Lynne, also possessed the ability. Water was her best friend. It was the meaning of her name. Ocean Pearl. It was her destiny.
She was made immortal, by a greedy vampire by the name of Alize. Several years later, after she and her sister left his side and joined the Olympic Coven, Coral and Kai stole into the night and killed Alize, leaving his body parts in flames.They never did tell their new family of their crime.
That was what the pale skinned, wide eyed, brunette found in the Cullens. A family. They were something that the war left her and her sister without. These vampires took her and Kai unfer their wings and vowed to protect them. They taught them their vergetarian lifestyle and soon after their eyes started to take on a golden color. They acted as cousins from another state who were ophaned after their parents died in a tragic fire. Not a total lie anyways.
To bad their time spent together eventually ran out. It turned out that Alize was not just a greedy vampire, but also a Volturi guard, and one of Aro's dearest friends. When the Volturi sought after the Gray sisters to seek vengeance they blamed the Cullens for his death, not knowing Aro's gift. With one touch to Carliesle's palm, Aro could see that what these sister spoke as truth was in fact, a lie.
Without one look over their shoulder, the Cullens abandoned them and left them there to die.
"Sounds kind of dangerous."